All of us, the land and the animals, are dying for a bit of cool weather, with rain! But, the weather is different this year, it is hot and sunny! Mostly we go elsewhere to bake in the sun in a climate that is sure of that, but nowadays we need not to go elsewhere.
For a few days at the beach, it is for a painter also fun. Look at the new paintings, enough subjects to paint! F. e. this little painting, 13 x 13 cm.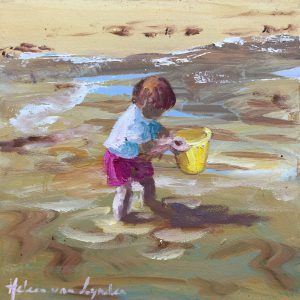 Fun is to make tiny little paintings of tiny subjects. Very fast, very sober. Paint the subject, and don't waste too much time about the surroundings. What you see on the beach these days, is little children, abandoned beachtoys or chairs, or other stuff. It need not to be a very interesting subject. The painting tells its story itself.