In the weekend of 7 en 8 october 2017 we start the succesfull Art-route for the 10th time, I guess.
We change places with Muiderberg, because half of our members is from Muiden and the other half from Muiderberg. That is fun and guarantees the enthousiasm of the public.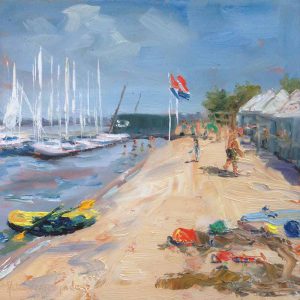 Muiden is a lively town, that let pass the boats from the Vecht to the IJsselmeer. The sluice there is a centre of amusement, to see the struggle of married couples how to attach the lines from their boats, while you enjoy a beer or coffee at the shore.
There, at the sluice is the  Restaurant de Doelen, where I present my paintings, that you saw perhaps on facebook, and far more. If you are in Holland, come to see the high quality of art from my fellow-artists, 42 of them, in the small town where you can walk from location to location on 22 places.
Save the date! 7 en 8 october 2018.