Dear Heleen,
The painting has just arrived by post. We are very content with it. The frame is gorgeous and the colours fit nicely with the painting.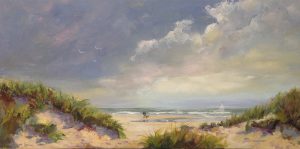 Tomorow we are...
Read more ...
Dear Heleen,
Thank you for your mail and photo attached of the frame. It looks very nice to us, as far as we can see that on the photo. The painting itself was in real also...
Read more ...
'Heleen van Lynden, the artist who made this piece, is a niece of mine. I visited the Gallery  to see her collection. This piece of work is a present for my son. He is fond of kiteserfing,...
Read more ...
Some time ago, I visited the Singer Museum in Laren. Aside from the exhibition itself, a series of self-portraits adorned the walls. One struck me in particular; it had a very specific style and use of colour....
Read more ...
Hi Heleen,
Last week my daughter visited me in Dubai and got for her birthday the small painting that I purchased befor in the Hage. She was so happy with it!
The little painting you hold for...
Read more ...
Dear Mrs van Lynden
Today we bought in the Hague (carré galerie in de Passage) a special painting from your hand (van 100×100) which make us very happy. We wondered if you could point out where you have painted itor is...
Read more ...