Kunstroute Muiden
In het weekend of 7 en 8 october 2017 beginnen we weer met de succesvolle Kunstroute voor de 10e keer, geloof ik.We wisselen plaats met Muiderberg, omdat de helft van de leden uit Muiden, en de andere helft uit Muiderberg komt.
Dat is leuk en het houdt het enthousiasme van het kijkend publiek erin.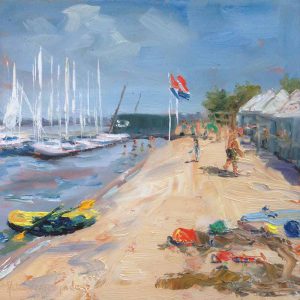 Muiden is een levendig stadje, met de sluis die platbodems en pleziervaart spuit naar en van het IJsselmeer. De sluis is daar het centrum van vermaak, om het gestuntel van schippers met hun partners bezig te zien onder het genot van een biertje of kop koffie op de kant.
Daar, bij die sluis, is het Restaurant de Doelen, en presenteer ik mijn schilderijen live, die je al soms op facebook hebt zien voorbijkomen, en andere, nieuwere.
Kom vooral kijken naar de hoge kwaliteit kunst van de 42 kunstenaars die in het kleine Muiden op 22 locaties op loopafstand van elkaar hun kunsten laten zien.
Save the date! 7 en 8 oktober 2018      
Lees meer ...