I have been painting since Highschool. Since the very beginning my interests lay in the history of art and drawing. Later, I also began to paint. Back then it was more important to have a good education, enabling one to earn a decent living. So I was a secretary, and even a real estate agent fors some years , having put my art studies at Minerva Academy in Groningen, on hold.
After several years in the work force, I was eager to take up my brushes again, and since then I have never looked back, beginning primarily with painting commissioned portraits.
I received lessons for 7 years from Berend Groen, and followed masterclasses with Sam Drukker. The recession came, so did the internet, and portraitpainters were to be found everywhere.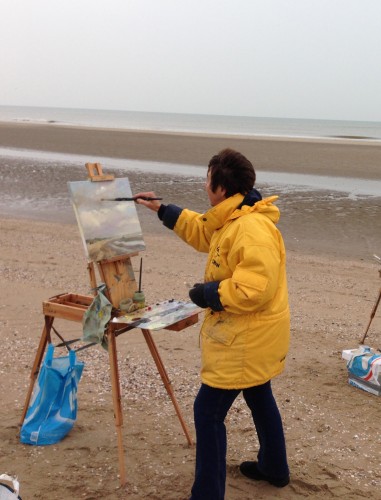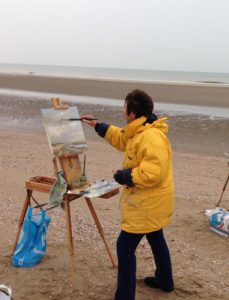 Understandably I felt somewhat restricted in my artistic freedom, by only accepting commissioned works.
More recently I am thoroughly enjoying the opportunity to develop my own "Freer" style in painting. More and more I am trying out landscapes, seascapes, the study of people in a loose style, not posed, but spontaneous and in differing settings.
By following masterclasses from Roos Schuring I realised once again one can always learn from others and it is never too late to learn new skills!
Plein-air is also a different environment to try out, more lively and fast, because the light changes all the time. Although I paint also in my comfortable studio, outdoor painting give a great advantage in colour-experience, speed and looseness.
I have a permanent exposition-place in Den Haag in Galerie Carré d'Artistes (Passage 16) with my work.