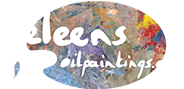 Heleen van Lynden, Painter of dutch landscapes and seascapes
Olieverf schilderen
Denkt u er over om een olieverfschilderij te kopen? Neemt u dan eens een kijkje tussen de olieverfschilderijen in mijn webshop. Heleen van Lynden is een ervaren schilder als het aankomt op schilderen met olieverf en laat u daar graag van meegenieten. Mijn specialisatie is het schilderen van landschappen, stadsgezichten en zeegezichten. Dit is dan ook het aanbod dat u vindt in mijn webshop. Heeft u interesse in mijn schilderijen en zou u deze graag eens in het echt komen bekijken? Maakt u dan een afspraak, dan laat ik deze u graag zien.
Werken van Heleen van Lynden
Vanaf jongs af aan schildert Heleen van Lynden al de meest mooie schilderijen. Na al deze jaren vol ervaring volg ik nu nog steeds cursussen om mijzelf verder te ontwikkelen. Bij mij bent u aan het juiste adres wanneer u op zoek bent naar een schilderij van een landschap, stadsaanzicht of zee aanzicht. Ik zorg ervoor dat ieder schilderij zijn eigen unieke sfeer heeft.
Naast mijn schilderijen kunt u bij mij ook terecht voor ansichtkaarten, postkaarten of kalenders. Ook deze vindt u terug in de webshop. Neem bijvoorbeeld mijn kalender voor 2017. Deze staat vol met de meest mooie zee aanzichten. Heeft u meer interesse in de ansichtkaarten? Kies dan voor de nieuwjaarskaarten waarop een prachtige ondergesneeuwde natuur te zien is. Kijk zelf eens in de webshop voor al mijn werken.
Contact opnemen
Heeft u interesse in mijn werken, maar kunt u niet vinden waar u naar op zoek bent? Neem dan contact met mij op, dan kijk ik graag wat ik voor u kan betekenen. Ik maak namelijk ook schilderijen in opdracht, zodat deze geheel naar uw wensen is. Wilt u zelf met olieverf schilderen? Kijk dan eens op deze webshop bij de online schilderlessen. Hier kunt u zich inschrijven voor mijn gratis schildercursus, waar ik u de basisbeginselen van het schilderen leer. Voor meer informatie of vragen kunt u altijd even contact met mij opnemen.