New! In this column tell my clients her or his personal story behind the purchase of an artwork from my hand.
Your review
Have you bought a painting from me and would you like to share your experience? Please leave a review below, I really appreciate it!
Liewe Heleen,
baie, baie dankie! Ek sal jou skryf en vertel hoe sy (moeder, red.) van die kalendaar hou – ek is seker sy sal dit baie lief hê, want die strand in Durban in Suidafrika, waar sy lang gebly het, lyk baie soos op jou skilderye, en sy verlang nog altyd baie na Suidafrika … En ek weet sy hou baie van jou manier om te skilder – met so veel lig en beweging!
Liewe groete in Afrikaans :-)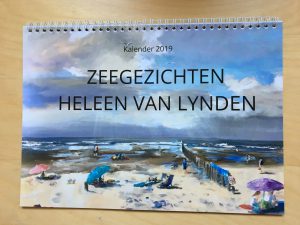 Anke
—————————————————————————-
Dear Heleen,
The painting has just arrived by post. We are very content with it. The frame is gorgeous and the colours fit nicely with the painting.
Tomorow we are going to hang it!
Thank you again for the beautiful painting and the frame, and of course the quick service!
Who knows we will meet again.
Best regards, Y.T and V.H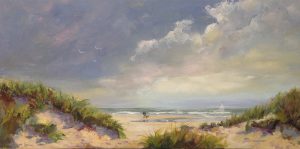 —————————————————————
'Heleen van Lynden, the artist who made this piece, is a niece of mine. I visited the Gallery to see her collection. This piece of work is a present for my son. He is fond of kiteserfing, and I think it is very special to give him as a present an artpiece from a familymember."
'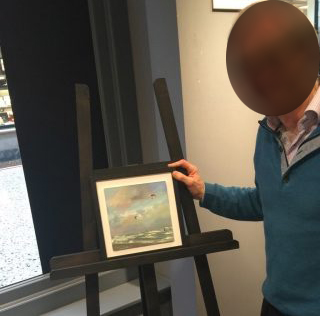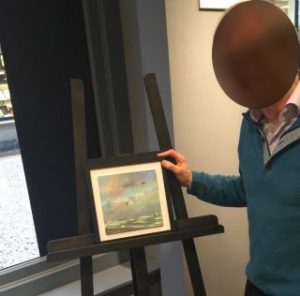 —————————————————————–
Some time ago, I visited the Singer Museum in Laren. Aside from the exhibition itself, a series of self-portraits adorned the walls. One struck me in particular; it had a very specific style and use of colour. It wasn't till half a year later that I found out it was actually Heleen's. Her style had already made a deep impression on me then and there. Our first painting was a View over Muiderberg, overlooking the beach and harbour.
The scene is of a late September day, where the bluest of skies are the backdrop for children playing happily in the sand. It was exactly what we described to Heleen and we were instantly taken by it. The painting often made us head out for a walk, just to see what the beach would be looking like that day. Now that we are no longer Muiderberg-inhabitants, we've 'filled the void' by acquiring another painting, a View over the Muiderberg waterline, depicting our much beloved Zeemeeuw. Her painting style made me so curious that I decided to take lessons at Heleen's atelier. I loved it; the entire process of painting, of translating the image in your brain to paint on a canvas, is such a brilliant challenge. She always knew exactly what it was I was struggling with and showed me the next step to get through the maze. Our most recent assignment was a View of Vlieland, a gift for my parents. It holds all the elements we love so much about the island; the golden greens of the grasses along the salty shores, the ships anchoring on the shallows, the harbour and the ferry boat. My parents loved it because it tells the story we love so much. As do the other paintings we have of Heleen's. We hope to enjoy them for years to come.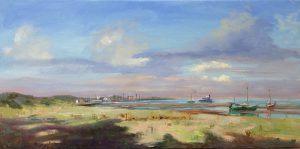 Greets, C. and T. v.W-de B, Nijkerk
————————————————————–
Hi Heleen,
Last week my daughter visited me in Dubai and got for her birthday the small painting that I purchased befor in the Hage. She was so happy with it!
The little painting you hold for me behind, is for my other daughter. She gets it next year for her birthday. I look forward already to her reaction!
Soon as I am in the Netherlands, I hope to meet so that I can collect the painting. Thanks that you will hold it apart. And have fun in painting!
kindest regards, Inge d J.
————————————————————–
Dear Mrs van Lynden
Today we bought in the Hague (carré galerie in de Passage) a special painting from your hand (van 100×100) which make us very happy. We wondered if you could point out where you have painted it, or is it a fantasylandscape? We like to hear from you.
kind regards
Jan M.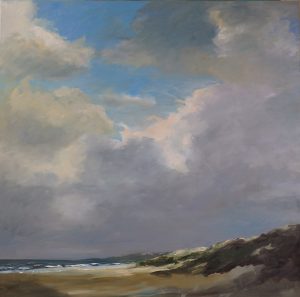 Geachte Heer M.,,
First: thank you that you where triggered by one of my dearest paintings. I must tell you honestly, that I didn't understand why this painting was not sold sooner. Probably the large scale, which makes an attribute to the dramatic weather of the time.
Paintings in this large scale I cannot paint outside, certainly with this kind of weathercircomstances.
But that may be not the point.I was inspired on the coast of Walcheren, Dishoek, looking to Zoutelande. The wavebreakers have dissappeared with the flood. I was there last week, the beaches there are the most interesting of the Netherlands, I think. the coast in Holland is very different, along the Zeelandbeaches, the Zuidholland beaches, Noorholland, the islands in the north.
I hope you recognise this feeling, or else, that you can enjoy of the play of sand, sea and light that can be so special in the Netherlands.
I wish you very much joy with your purchase, and I am very confident that it has found a place at your wall!
Met vriendelijke groet,
Heleen van Lynden, Fine Art,
————————————————————–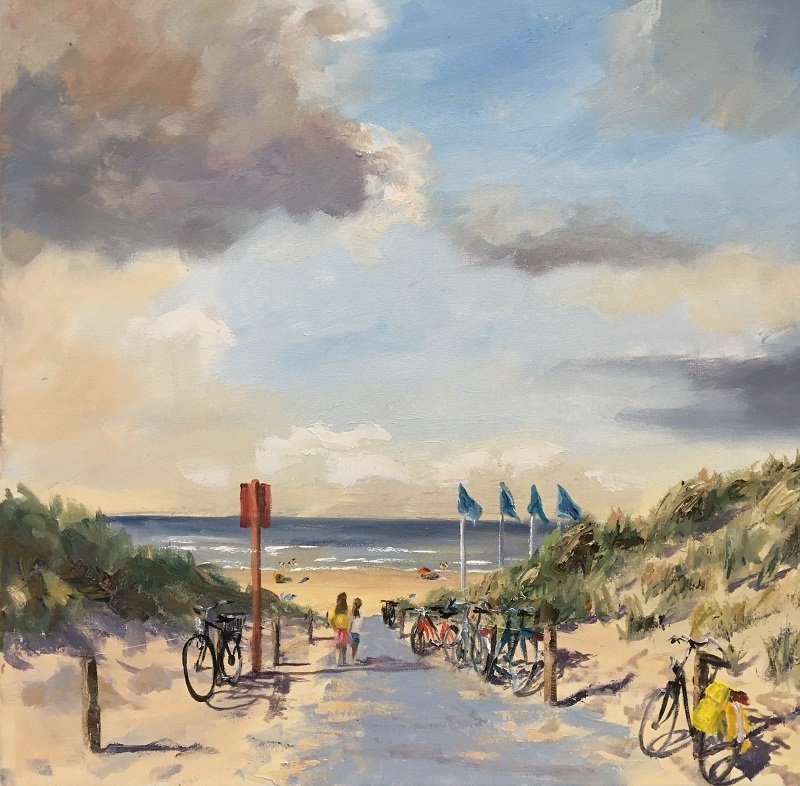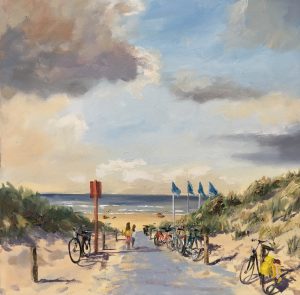 Yes! Today I received it. .. Waow, it is really beautiful!
The frame I hoped could be a litttle more robust, but I can replace it eventually later.
It is bautiful on the wall!!!
Thank you,
greetings, Iris.