Dear Mrs van Lynden
Today we bought in the Hague (carré galerie in de Passage) a special painting from your hand (van 100×100) which make us very happy. We wondered if you could point out where you have painted itor is it a fantasylandscape? We like to hear from you.
kind regards
Jan M.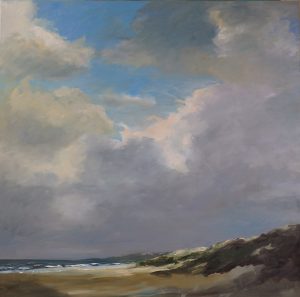 Dear Mr. Mulder,
I have inspired the painting on the coast of Walcheren, near Dishoek, looking towards Zoutelande. The breakwaters have almost disappeared with the high tide and I have left them out. I was there last week, they are the most exciting beaches as far as I'm concerned. In my youth I spent many holidays on Walcheren, as my grandparents lived there.
I hope that you will experience recognition in it, or else you can enjoy the play of sand, sea, air and light that can sometimes be so special in the Netherlands.
Have fun with your purchase! I'm glad it found a good place with you.
Yours sincerely, Heleen