Dear Mrs van Lynden
Today we bought in the Hague (carré galerie in de Passage) a special painting from your hand (van 100×100) which make us very happy. We wondered if you could point out where you have painted itor is it a fantasylandscape? We like to hear from you.
kind regards
Jan M.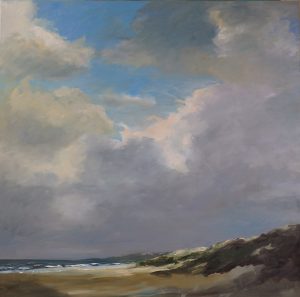 Geachte Heer M.,,
First: thank you that you where triggered by one of my dearest paintings. I must tell you honestly, that I didn't understand why this painting was not sold sooner. Probably the large scale, which makes an attribute to the dramatic weather of the time. 
Paintings in this large scale I cannot paint outside, certainly with this kind of weathercircomstances.
But that may be not the point.I was inspired on the coast of Walcheren, Dishoek, looking to Zoutelande. The wavebreakers have dissappeared with the flood. I was there last week, the beaches there are the most interesting of the Netherlands, I think. the coast in Holland is very different, along the Zeelandbeaches, the Zuidholland beaches, Noorholland, the islands in the north.
I hope you recognise this feeling, or else, that you can enjoy of the play of sand, sea and light that can be so special in the Netherlands.
I wish you very much joy with your purchase, and I am very confident that it has found a place at your wall!
Met vriendelijke groet,
Heleen van Lynden, Fine Art,